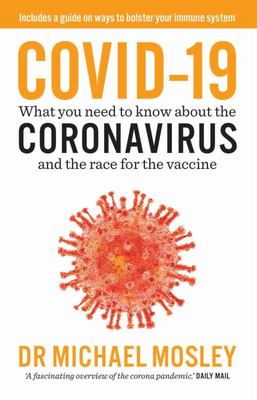 $19.99
AUD
Category: Health
This book charts the trajectory of the COVID-19 virus, from its emergence in China at the end of 2019 to its rapid worldwide spread.   Based on the latest scientific discoveries, Dr Mosley gives you a detailed understanding of the secrets of this coronavirus, how it spreads, how it infects your body and how your immune system tries to fight back. Armed with the facts you'll be in a much better position to protect yourself and your family when the world begins to reopen.   Dr Mosley also follows the work of leading doctors and virus researchers as they battle to find treatments and a safe and effective vaccine (ultimately, the only way to defeat the virus).   Eating well, sleeping soundly, exercising and managing your stress are all critical for keeping your brain, body and immune system in the best possible shape over the coming months. These are areas where Dr Mosley is well known for his science-based and practical approach.       ...Show more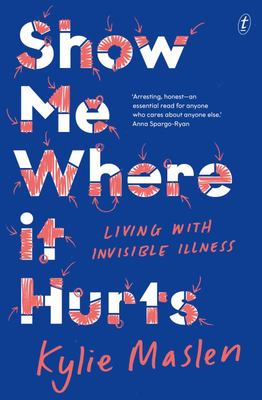 $34.99
AUD
Category: Health
My body dictates who I am. I work the way I do because of my body, I vote the way I do because of my body and I live the way I do because of my body. It is not my body that is at fault, but society's failure to deal with bodies like mine. I might be in pain, but I am whole. I refuse to have the difficul t parts cropped out. Kylie Maslen has been living with invisible illness for twenty years--more than half her life. Its impact is felt in every aspect of her day-to-day existence: from work to dating; from her fears for what the future holds to her struggles to get out of bed some mornings.  Drawing on pop music, art, literature and online culture, Maslen explores the lived experience of invisible illness with sensitivity and wit, drawing back the veil on a reality many struggle--or refuse--to recognise. Show Me Where it Hurts: Living with Invisible Illness is a powerful collection of essays that speak to those who have encountered the brush-off from doctors, faced endless tests and treatments, and endured chronic pain and suffering. But it is also a bridge reaching out to partners, families, friends, colleagues, doctors: all those who want to better understand what life looks like when you cannot simply show others where it hurts. ...Show more
$24.99
AUD
Category: Health
Do you want to protect animals from cruelty? Do you want to stop climate change in its tracks? Do you want to be happier and healthier than ever before? Vegan Living shows you how. In this easy guide to a cruelty-free, plant-based life, vegan and long-time advocate Ondine Sherman--co-founder of animal p rotection organization Voiceless--shares her knowledge, lessons, tips and tricks. Whether you're already partially vegan, a vegetarian, or someone looking to make positive lifestyle changes, Vegan Living offers effective tools so you can move forward in the healthiest way possible. It also features answers to a host of common questions about making the switch. This book will teach you how to live more kindly, offering inspiration and support as you progress. Learn how to tweak your lifestyle and achieve real-world impact. With your small step towards sustainability, you really can be a part of making the world a happier, healthier place. ...Show more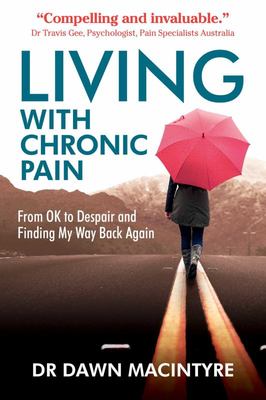 $29.99
AUD
Category: Health
One in five people live with chronic pain and most feel misunderstood and unsupported. Dr Dawn Macintyre is one of those people. In Living with Chronic Pain, Dawn shares her journey from living a full life to a life so diminished, full of pain, shame and exhaustion that she was desperate enough to want to take her own life. The author's personal story is interwoven with insight into the emotions and challenges faced, as well as practical advice for changes and support to help sufferers enjoy life again. Dawn provides her perspective as both a sufferer of chronic pain, and a health practitioner. If you are a health professional, this book offers insight into how to best support your patients and clients living with chronic pain. If you are living with chronic pain, this story will bring you courage, joy and most importantly, the knowledge to find your meaningful life again. ...Show more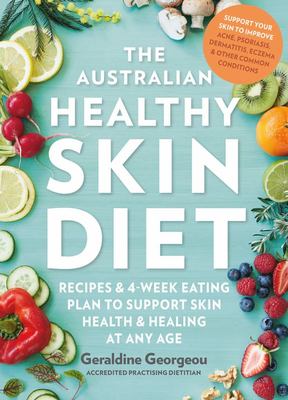 $35.00
AUD
Category: Health
Must-read dietary advice and recipes for healthy skin for Australians of all ages, tackling acne, dermatitis and other common conditions.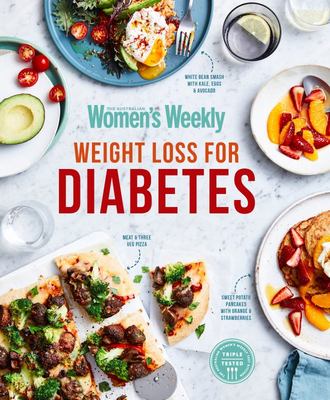 $34.99
AUD
Category: Health
In Australia, someone develops diabetes every five minutes, with more than one million Australians currently living with diabetes. While this is a startling number, there is much you can do to help prevent and manage diabetes with diet and lifestyle changes. Reset your approach to diabetes with our care fully portioned and nutritionally formulated recipes, designed to give you the tools to take control of your health. ...Show more
$36.99
AUD
Category: Health
Michelle's extraordinarily successful 12WBT program has helped hundreds of thousands of Australians lose almost 2 million kilos over 10 years. 12WBT Low-carb Solution advocates an easy low-carb approach to healthy eating - comprising moderate protein, small amounts of good fat, and SMART carbs (low car bs, not no carbs) - with a focus on natural, unprocessed foods. This book contains:- 120 simple low-carb recipes- dietitian-approved meal plans - easy-to-follow exercises - general advice to help individuals reset their habits, lose weight and foster long-term good health. Above all, it contains a solution. It's perfect for those who are already familiar with 12WBT or for those who are interested in learning more about a program that has been tried, tested and loved by thousands of everyday Australians. ...Show more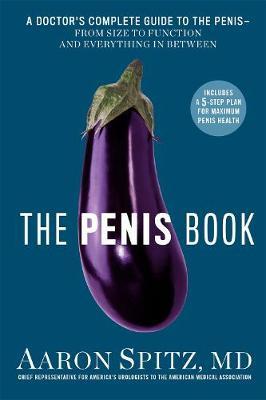 $22.99
AUD
Category: Health
The Penis Book is the comprehensive guide to everything you need to know about the penis, for men and women alike. Written by Dr. Aaron Spitz-one of America's top urologists and a regular on The Doctors-the book is full of in-depth information, expert medical advice, and even humor to put the reader at ease. In addition to information on everything from sexually transmitted infections to the science of blood flow, Dr. Spitz presents an easy-to-follow five-step plan for holistic penis health, including advice on eating a plant-based diet, meditation, and heart-healthy workouts. This book will be the essential guide to caring for the penis in anyone's life. ...Show more
$22.99
AUD
Category: Health
A complete training plan that allows anyone to achieve results that were once only available to elite athletes - devised by Michael Jordan's trainer Tim S. Grover.
$29.99
AUD
Category: Health
Eating clean all year round has never been easier! From clean versions of festive indulgences like classic Christmas pudding and hot cross buns, to summery salads and hearty winter casseroles, this cookbook contains all the healthy recipes you need to eat well all year round. Favourites like Mum's Mea tloaf, Crispy Fish Tacos and even Neapolitan Ice-Cream Cake are given the paleo makeover, so that you can enjoy all those delicious flavours without refined sugar, dairy or gluten. EAT CLEAN ALL YEAR also includes a chapter of essential recipes to incorporate into your everyday routine, and explains in simple easy-to-follow steps how to make fermented veggies and bone broths to promote excellent whole body health through every season. ...Show more
$29.99
AUD
Category: Health
With unflinching honesty, Lara Parker, the Deputy Director for BuzzFeed, shares her day-to-day challenges of living, working, and loving with chronic pain caused by endometriosis in this raw, darkly humorous, and hopeful memoir. I wasn't ready to be completely honest about my vagina yet, and the world w asn't ready for that either. But I was getting there. I wanted the world to know that all of this pain I had been feeling...that it was related to my vagina. Thus, Vagina Problems was born. It was a cutesy name. It was my way of taking this pain and saying, "Whatever. I'm here. I have it. It sucks. Let's talk about it." In April 2014, Deputy Editorial Director at BuzzFeed Lara Parker opened up to the world in an article on the website: she suffers from endometriosis. And beyond that? She let the whole world know that she wasn't having any sex, as sex was excruciatingly painful. Less than a year before, she received not only the diagnosis of endometriosis, but also a diagnosis of pelvic floor dysfunction, vulvodynia, vaginismus, and vulvar vestibulitis. Combined, these debilitating conditions have wreaked havoc on her life, causing excruciating pain throughout her body since she was fourteen years old. These are her Vagina Problems. It was five years before Lara learned what was happening to her body. Five years of doctors insisting she just had "bad period cramps," or implying her pain was psychological. Shamed and stigmatized, Lara fought back against a medical community biased against women and discovered that the ignorance of many doctors about women's anatomy was damaging more than just her own life. One in ten women have endometriosis and it takes an average of seven years before they receive an accurate diagnosis―or any relief from this incurable illness' chronic pain. With candid revelations about her vaginal physical therapy, dating as a straight woman without penetrative sex, coping with painful seizures while at the office, diet and wardrobe malfunctions when your vagina hurts all the time, and the depression and anxiety of feeling unloved, Lara tackles it all in Vagina Problems: Endometriosis, Painful Sex, and Other Taboo Topics with courage, wit, love, and a determination to live her best life. ...Show more
$0.00
AUD
Category: Health
Did you know that blueberries can help you cope with the after-effects of trauma? That salami can cause depression, or that boosting Vitamin D intake can help treat anxiety? When it comes to diet, most people's concerns involve weight loss, fitness, cardiac health, and longevity. But what we eat affects more than our bodies; it also affects our brains. And recent studies have shown that diet can have a profound impact on mental health conditions ranging from ADHD to depression, anxiety, sleep disorders, OCD, dementia and beyond. Dr. Uma Naidoo is a board-certified psychiatrist, nutrition specialist, and professionally trained chef. In The Food-Mood Connection, she draws on cutting-edge research to explain the many ways in which food contributes to our mental health, and shows how a sound diet can help treat and prevent a wide range of psychological and cognitive health issues. Packed with fascinating science, actionable nutritional recommendations, and delicious, brain-healthy recipes, The Food-Mood Connection is the go-to guide to optimizing your mental health with food. ...Show more