$22.99
AUD
Category: Poetry
You are on Indigenous lands, swimming in Indigenous waters, looking up at Indigenous skies. Living on Stolen Land is a verse-styled look at our colonial-settler 'present'. This book is the first of its kind to address and educate a broad audience about the colonial contextual history of Australia, in a highly original way. It pulls apart the myths at the heart of our nationhood, and challenges Australia to come to terms with its own past and its place within and on 'Indigenous Countries'. This title speaks to many First Nations' truths — stolen lands, sovereignties, time, decolonisation, First Nations perspectives, systemic bias and other constructs that inform our present discussions and ever-expanding understanding. This title is a timely, thought-provoking and accessible read. ...Show more
$24.99
AUD
Category: Poetry | Series: Timeless Rumi Ser.
The Friendship Poems of Rumi is an elegantly illustrated gift book of the famous Rumis poems, translated by Nader Khalili, that center on the meaning of friendship and its many beautiful meanings.
$24.99
AUD
Category: Poetry | Series: Timeless Rumi Ser.
The Spiritual Poems of Rumi is a beautiful and elegantly illustrated gift book of Rumi's spiritual poems translated by Nader Khalili, geared for readers searching for a stronger spiritual core.
$24.99
AUD
Category: Poetry | Series: Timeless Rumi Ser.
The Love Poems of Rumi is a beautiful and elegantly illustrated gift book of Rumis poems translated by Nader Khalili, geared for readers searching for inspirational themes and messages about love.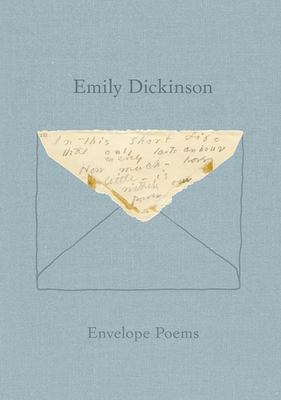 Envelope Poems
by Emily Dickinson; Jen Bervin; Marta Werner
$23.95
AUD
Category: Poetry
Although a very prolific poet--and arguably America's greatest--Emily Dickinson (1830-1886) published fewer than a dozen of her eighteen hundred poems. Instead, she created at home small handmade books. When, in her later years, she stopped producing these, she was still writing a great deal, and at her death she left behind many poems, drafts, and letters. It is among the makeshift and fragile manuscripts of Dickinson's later writings that we find the envelope poems gathered here. These manuscripts on envelopes (recycled by the poet with marked New England thrift) were written with the full powers of her late, most radical period. Intensely alive, these envelope poems are charged with a special poignancy--addressed to no one and everyone at once. Full-color facsimiles are accompanied by Marta L. Werner and Jen Bervin's pioneering transcriptions of Dickinson's handwriting. Their transcriptions allow us to read the texts, while the facsimiles let us see exactly what Dickinson wrote (the variant words, crossings-out, dashes, directional fields, spaces, columns, and overlapping planes). ...Show more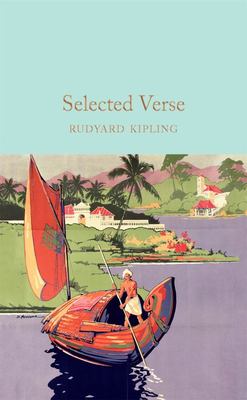 $14.99
AUD
Category: Poetry | Series: Macmillan Collector's Library
With subjects as broad as militarism, the British Empire, childhood and death, the Selected Verse of Rudyard Kipling is a treasure trove of the Nobel Prize winner's most striking and moving poetry, dramatic monologues and ballads. This Macmillan Collector's Library edition includes an introduction by Li zzy Welby and the endorsement of the Kipling Society, of which Dr Welby is a Council Member. Designed to appeal to the booklover, the Macmillan Collector's Library is a series of beautiful gift editions of much loved classic titles. Macmillan Collector's Library are books to love and treasure. ...Show more
$26.99
AUD
Category: Poetry
Do you ever find yourself suffering from mal-de-siècle (n.) (a world-weariness brought on by the current state of affairs)? Do you simply want to snerdle (v.) (to wrap up cozily in bed) or hide away in your growlery (n.) (a place you like to retreat to when you're in a bad mood)? Sometimes the language of kindness is what's required to put things right. Open The Cabinet of Calm to find a soothing word that's equal to your troubles. Beginning with names for the upsets or discomforts we feel on difficult days, Paul Anthony Jones offers a matching linguistic balm: warm and wise words – and their definitions – for the things that brighten our days. Written with a trademark lightness of touch, The Cabinet of Calm reassures you that you're not alone, whatever your mood, allowing you to keep hold of your agathism (n.) (the belief that all things get better, even though the means of getting there might not be easy). So much more than a book of words, The Cabinet of Calm will soothe your soul and ease your mind. ...Show more
$39.99
AUD
Category: Poetry | Reading Level: 3 Biography
Paul Kelly's songs are steeped in poetry. And now he has gathered from around the world the poems he loves - poems that have inspired and challenged him over the years, a number of which he has set to music. This wide-ranging and deeply moving anthology combines the ancient and the modern, the hallowed and the profane, the famous and the little known, to speak to two of literature's great themes that have proven so powerful in his music- love and death - plus everything in between. Here are poems by Yehuda Amichai, W.H. Auden, Tusiata Avia, Hera Lindsay Bird, William Blake, Bertolt Brecht, Constantine Cavafy, Alison Croggon, Mahmoud Darwish, Emily Dickinson, John Donne, Ali Cobby Eckermann, James Fenton, Thomas Hardy, Kevin Hart, Gwen Harwood, Seamus Heaney, Philip Hodgins, Homer, Gerard Manley Hopkins, Langston Hughes, John Keats, Ono No Komachi, Maxine Kumin, Philip Larkin, Li-Young Lee, Norman MacCaig, Paula Meehan, Czeslaw Milosz, Les Murray, Pablo Neruda, Sharon Olds, Ovid, Sylvia Plath, Dorothy Porter, Rumi, Anne Sexton, William Shakespeare, Izumi Shikibu, Warsan Shire, Kenneth Slessor, Wislawa Szymborska, Maire Mhac an tSaoi, Ko Un, Walt Whitman, Judith Wright, W.B. Yeats and many more. ...Show more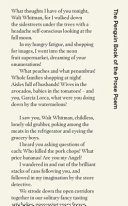 $69.99
AUD
Category: Poetry
The last decades have seen an explosion of the prose poem. More and more writers are turning to this peculiarly rich and flexible form; it defines Claudia Rankine's Citizen, one of the most talked-about books of recent years, and many others, such as Sarah Howe's Loop of Jade and Vahni Capildeo's Measur es of Expatriation, make extensive use of it. Yet this fertile mode which in its time has drawn the likes of Charles Baudelaire, Oscar Wilde, T. S. Eliot, Gertrude Stein and Seamus Heaney remains, for many contemporary readers, something of a mystery. The history of the prose poem is a long and fascinating one. Here, Jeremy Noel-Tod reconstructs it for us by selecting the essential pieces of writing - by turns luminous, brooding, lamentatory and comic - which have defined and developed the form at each stage, from its beginnings in 19th-century France, through the 20th-century traditions of Britain and America and beyond the English language, to the great wealth of material written internationally since 2000. Comprehensively told, it yields one of the most original and genre-changing anthologies to be published for some years, and offers readers the chance to discover a diverse range of new poets and new kinds of poem, while also meeting famous names in an unfamiliar guise. ...Show more
$22.95
AUD
Category: Poetry
The Australian publishing sensation: a lesbian thriller in verse.
$29.95
AUD
Category: Poetry | Reading Level: 1 Poetry
This is only David Malouf's third new poetry volume in nearly 40 years, so it is a significant publishing event. As one of Australia's greatest living poets, Malouf continues to meditate and reflect on themes of mortality and memory. The poems in An Open Bookare attentive and evocative, vital and beauti ful, revisiting and reimagining some of the key themes that have resonated with readers over his impressive career. Like the 'small comfort of light . . . as night comes on', Malouf's new poems hold close the precious and tender. Only a few of these poems have ever been published, so most of the collection will be completely new to readers everywhere. An Open Bookwill be the literary gift of the Christmas and summer of 2018. ...Show more
$22.99
AUD
Category: Poetry
From a remarkable new voice in Indigenous writing comes this highly original collection of poems bristling with stunning imagery and gritty textures. At times sensual, always potent, Lemons in the Chicken Wire delivers a collage of work that reflects rural identity through a rich medley of techniques an d forms. It is an audacious, lyrical and linguistically lemon flavored poetry debut that possesses a rare edginess and seeks to challenge our imagination beyond the ordinary. Alison Whittaker demonstrates that borders, whether physical or imagined, are no match for our capacity for love. ...Show more