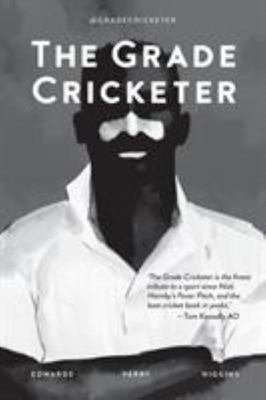 $29.95
AUD
Category: Sport
Welcome to the world of The Grade Cricketer. Described as the most original voice in cricket, this book represents the fading hopes and dreams of every ageing amateur sportsman. In this tell-all 'autobiography', the book describes his cricketing career with unflinching honesty and plenty of humour, in t urn providing insights into the hyper-masculine cricket 'dressing room'. This one-time junior prodigy is now experiencing the lean, increasingly existential years of adult cricket. Here, he learns quickly that one will need more than just runs and wickets to make it in the alpha-dominated grade cricket jungle, where blokes like Nuggsy, Bruiser, Deeks and Robbo reign supreme. Through it all, The Grade Cricketer lays bare his deepest insecurities -- his relationship with Dad, his fleeting romances outside the cricket club - and, in turn, we witness a gentle maturation; a slow realisation that perhaps, just maybe, there is more to life than hitting 50 not out in third grade and enjoying a few celebratory beers afterwards. Or is there? The book is based upon the popular Twitter account, @gradecricketer, which has received critical acclaim for its frighteningly honest portrayal of amateur cricket. Now, the time has finally come for this middling amateur sportsman to tell his story in full. ...Show more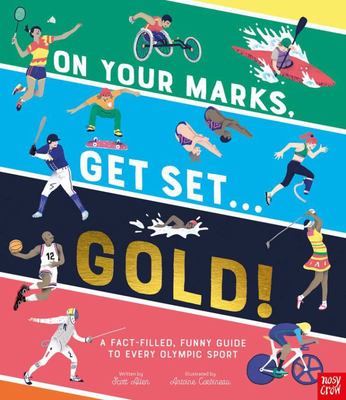 $19.99
AUD
Category: Sport
A funny and fact-filled guide to every Olympic sport! From boxing to boccia, find out just what it takes to become an Olympic and Paralympic star in this hilariously informative guide to the games. For each sport you'll discover why it's great, why it's not so great, what skills and equipment you'll ne ed to start practising and even how to sound like a pro! With bold, energetic illustrations and a text packed with weird, wonderful and wildly hilarious facts, this is a laugh-a-minute, fascinating guide to every Olympic and Paralympic sport. ...Show more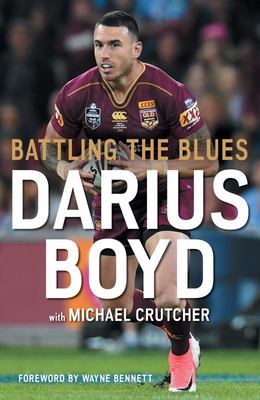 $32.99
AUD
Category: Biography & Memoir
  Darius Boyd is an NRL champion. This raw, honest and inspiring memoir takes us into the heart of his footy and private life and reveals his fight to conquer his demons and live a better life. 'A legend of the game' - Anthony Seibold'He's a player that never lets his team down' - Billy SlaterDarius Boyd broke into the Brisbane Broncos NRL team in 2006 straight out of high school and was part of the premiership-winning team in his debut season. He'd go on to win another premiership with the Dragons in 2010, claiming the Clive Churchill Medal for man of the match and forever stamping his name as an elite champion of the game. He has played 28 State of Origins for Queensland and taken the field in 23 Tests for Australia - never playing in a losing Australian team. In 15 seasons at the top level, Darius has won nearly every honour the sport can award and is undeniably an NRL great.But listing statistics, awards and premierships doesn't reveal the battles that Darius Boyd has faced off the field. A teenager with a troubled background, he started his career with innate footy talent but also the emotional baggage of an unknown father, the devastating loss of loved ones, and a mother who was walking a mental health tightrope herself, which as a kid he didn't understand.As his talent shone on the field and his profile increased, Darius struggled. Hiding years of depression and unhappiness, playing footy was his escape. But no one can run from themselves forever. The horrific spinal injury to good mate and Newcastle Knights teammate Alex McKinnon was the catalyst that finally broke Darius. Realising he needed help for his anxiety, depression and suicidal thoughts, he turned his back on football, checked into a mental health facility and began to mend his life and himself. Now, as he heads into retirement, Darius Boyd is sharing his story, to celebrate his triumphs on the field but, more importantly for him, revealing how to deal with depression, overcome adversity and live with mental illness. He reflects on excerpts from his private journal which charted his journey from the depths of despair to a life of gratitude. It is a heartfelt message he now takes across the NRL and into boardrooms, schools and footy clubs in a quest to keep our young men alive.BATTLING THE BLUES is a raw, honest and inspiring memoir that takes us into the heart of an NRL champion and his fight to conquer his demons and live a better life.   ...Show more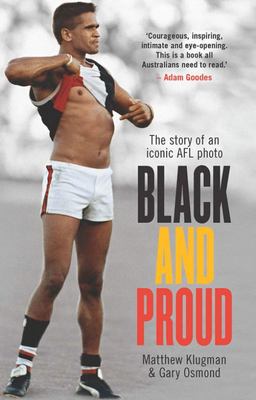 Black and Proud
by Matthew Klugman and Gary Osmond
$34.99
AUD
Category: Sport
On 17 April 1993, after an AFL match between St Kilda and Collingwood, Saints star Nicky Winmar made a historic statement in the face of a torrent of racial abuse. Facing the Collingwood crowd after St Kilda's decisive win, he pulled up his shirt, pointed to his chest and declared: 'I'm black and I'm pr oud to be black'. Race and sport have a long intertwined history in Australia, but it all came to a head on that day. Photographers Wayne Ludbey and John Feder captured the moment. Fellow Indigenous team member Gilbert McAdam didn't even realise what had happened until later. What followed was an intense public debate that forced the AFL and the fans to confront their prejudices head-on. Black and Proud takes us back to that fateful day, but tells the stories of the players and the photographers and all they experienced in the lead-up and the aftermath. ...Show more
$35.00
AUD
Category: Sport | Series: Fifty Places Ser.
In Fifty Places to Camp Before You Die, Chris Santella illuminates the best destinations for exploring the great outdoors. The book features the world's top spots for sleeping under the stars and enjoying a host of outdoor recreational activities that make camping such a time-honoured tradition. Featuri ng favorite US National Parks destinations--as well as more exotic locales in Italy, Chile, France, Botswana, Germany and more--Santella provides helpful information and tips that will appeal to novice campers and seasoned outdoorsmen alike. Interviews with camping experts and beautiful, vibrant photography bring each location to life. Fifty Places to Camp Before You Die makes camping trips more accessible with easy-to-follow advice, enthralling anecdotes and tips and plans for creating your own amazing outdoor memories. ...Show more
$35.00
AUD
Category: Sport | Series: Fifty Places Ser.
Fifty Places to Ski and Snowboard Before You Die - the tenth book in Chris Santella's popular "Fifty Places" series - takes readers on a tour de force of some of the world's most inspiring ski/snowboard areas. Based on interviews with leading ski/snowboarding experts, the book explores the rich history, personalities - and most of all, the experience - of visiting mountains from the Alps to the Rockies, of apres ski in Cortina or helicopter rides into virgin Alaskan powder. ...Show more
$39.99
AUD
Category: Sport | Series: Fifty Places Ser.
The author of the bestselling Fifty Places series returns with a globe-trotting guide to the best and most beautiful places to rock climb around the world   Fifty Places to Rock Climb Before You Die is a beautifully illustrated guide to some of the greatest rock-climbing locations around the world, as r ecommended by expert climbers. The book will cover three types of climbing--trad, sport, and bouldering--and will showcase breathtaking venues from Joshua Tree to Jeju, South Korea. Featuring insights from industry insiders, including employees from rock-climbing gear companies like Petzl and Black Diamond Equipment, professional climbers like Jon Cardwell and Kevin Jorgeson (co-star of Dawn Wall), filmmaker Michael Call, and Climbing magazine editor Matt Samet, Fifty Places to Rock Climb Before You Die is the essential travel companion for climbers of all levels of expertise. FEATURED LOCATIONS United States Horse Pens 40, Alabama Cochise Stronghold, Arizona Bishop, California Joshua Tree National Park, California Yosemite National Park, California Black Canyon of the Gunnison National Park, Colorado Rifle, Colorado City of Rocks, Idaho Elephant's Perch, Idaho Arco, Italy Red River Gorge, Kentucky Acadia National Park, Maine Baxter State Park, Maine Red Rock, Nevada North Conway, New Hampshire The Shawangunks, New York Wichita Mountains Wildlife Refuge, Oklahoma Smith Rock, Oregon Hueco Tanks State Park, Texas Maple Canyon, Utah Moab, Utah Zion National Park, Utah North Cascades, Washington New River Gorge, West Virginia Seneca Rocks, West Virginia Devil's Lake, Wisconsin Devils Tower, Wyoming Grand Teton National Park, Wyoming  Canada Bow Valley, Alberta The Bugaboos, British Columbia Squamish, British Columbia Lion's Head, Ontario International Frey, Argentina Mount Arapiles, Australia Innsbruck, Austria Liming, China Lake District National Park, England Chamonix, France Fontainebleau, France Frankenjura, Germany Kalymnos, Greece Castle Hill, New Zealand El Potrero Chico, Mexico Bled, Slovenia Rocklands, South Africa Gyeonggi-do/Jeju, South Korea Ibiza, Spain Mallorca, Spain Rätikon, Switzerland Railay Beach, Thailand ...Show more
No Spin
by Shane Warne; Mark Nicholas
$22.99
AUD
Category: Sport
In 1993 at Old Trafford, Manchester, a young blond leg-spinner bowled the ball that was heard around the world. In the years that followed, there were plenty of deliveries that all but matched it. Everyone knows the story, or thinks they do. The bowler who rewrote the record books. One of Wisden's five cricketers of the 20th century. A sporting idol across the globe and a maverick magnet for the tabloids. But the millions of words written and spoken about Shane Warne since his explosive arrival on the Test cricket scene in 1992 have only scratched the surface. His side of the story has largely remained untold. Passionate and straight-shooting, Shane describe growing up in the suburbs of Melbourne as a football-crazy kid, being raised by parents whose own story tells up much about his desire to succeed, and he takes us all the way down the road to his 700th Test wicket. Along the way are a dodgy bookmaker, a rogue pill, cruel injuries, killer comebacks, spiders and snakes, high-profile friendships and an even higher-profile relationship - alongside Ashes, World Cup and IPL glory. Nothing is off limits. Over the past 18 months, Shane has recorded many hours' worth of conversations with Mark Nicholas, in which he has spoken at length about his remarkable experiences. Rarely has a cricketer looked back so deeply at his life. Perhaps most rivetingly of all, the romantic in him shares the secrets of his beloved art: the art, that is, of leg-spin. It is what he calls 'the adventure of a lifetime' and, as he says, 'Few batsmen, if any, truly know what I do.' A sporting great, an irresistible celebrity, a family man and a self-confessed almost-regular Aussie bloke, in No Spin Shane Warne offers a compelling insight into how a boy from Black Rock changed the face of cricket. Book jacket. ...Show more
$35.00
AUD
Category: Sport | Series: Fifty Places Ser.
Fifty Places to Surf Before You Die is a beautifully illustrated guide to the most thrilling surfing destinations in the world. Covering quintessential beaches, including: Oahu's North Shore; Australia's Gold Coast; and of course, Malibu, California, the book also invites you to discover such unexpected gems as the Amazon and the Gulf of Alaska. From the frigid waters off Iceland's Reykjanes Peninsula to Nazar , Portugal, where in 2013 Garrett McNamara broke a world record for surfing the tallest wave (78 feet ), Fifty Places to Surf takes readers on a wide-roving adventure, divulging the details that make each venue unique--and plenty of tips for those who aspire to surf there. Featuring interviews with seasoned surfing experts such as pro surfer Joel Parkinson and Billabong executive Shannan North, Fifty Places to Surf Before You Die is an essential travel companion for surfers of all levels who are looking to catch that perfect wave. ...Show more
$35.00
AUD
Category: Sport | Series: Fifty Places Ser.
Fifty Places to Bike Before You Die is the ninth addition to the bestselling Fifty Places series by Chris Santella. Biking has grown increasingly popular in recent years, as both a leisure and an extreme exercise activity, and Santella covers trips for cyclists of every level. Fifty Places to Bike cover s environments as varied as the Dalmatian Coast in Croatia, the Indochina Trail in Vietnam, and the urban jungle of New York City. With a healthy mix of international and national locations, the 50 chapters capture the breathtaking vistas cyclists will enjoy around the world. As always, the places are brought to life with more than 40 stunning color photographs. Praise for Fifty Places to Bike Before You Die "OMG views, killer hills and open road--the routes in Fifty Places to Bike Before You Die (in bookstores this month) have everything a pedal pusher could ask for." --Fitness magazine "If you know someone who can't view a landscape without visualizing themselves traversing it on two wheels, Fifty Places to Bike Before You Die is a sound gift choice." --The San Francisco Chronicle "Fifty Places to Bike Before You Die gets adventurous cyclists going in the right direction." --The Boston Globe "50 chapters capture breathtaking cycling trails around the world." --Metrosource magazine ...Show more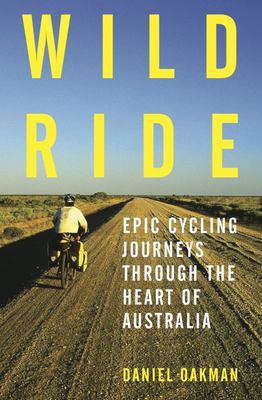 $34.95
AUD
Category: Sport
This book tells the story of the cyclists who were overcome by the need to venture forth on two wheels; the courageous men and women who undertook some of the most epic bicycle journeys of all time. While many of Australia's bicycle pioneers rode to beat records or be the first, others rode for no othe r reason than to immerse themselves in the wild. They willingly surrendered themselves to their fate in a land at once majestic, magical and hostile. Fortunately for us these bicycle pioneers were not content to merely ride. They wanted to share their experience with other like-minded folk and Australian readers devoured their stories; heady accounts filled with unbridled wonder, drama and derring-do. The journeys retold in this book are a thrilling reminder of a period of exploration largely forgotten in the age of the motorcar. We might simply choose to enjoy these pioneering feats vicariously from the comfort of our armchairs. Or, we might be inspired to venture out on our own pedal powered explorations. At the very least, they will make our excuses to not go for a ride seem rather feeble indeed! ...Show more
$32.99
AUD
Category: Sport
Footy legend Kevin Sheedy crosses team alliances to profile the 21 most iconic Aussie Rules players and coaches of his lifetime. He also sits down for interviews with nine icons he has long admired and who don't normally (for various reasons) have their stories told. Packed full of wisdom and wit, insig ht and memories, Icons of Footy is a treasure-trove for football fans of all tribes and ages, from one of the most unique and colourful characters in Australian sport. This beautifully-packaged paperback includes: Gary Ablett Senior, Allen Aylett, Ron Barassi, Kevin Bartlett, Malcolm Blight, Barry Cable, Wayne Carey, Alastair Clarkson, Jason Dunstall, Graham Farmer, Lance Franklin, Adam Goodes, Royce Hart, Francis Hughes, James Hird, Alex Jesaulenko, Leigh Matthews, Kevin Murray, John Nicholls, Barrie Robran, Michael Tuck. ...Show more